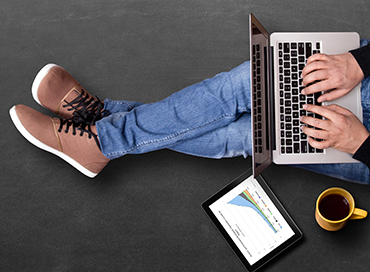 Five must-read articles for marketers

When we launched "Marketing News" back in 2013, you said you wanted to keep up on what other marketers were doing, and to share best practices for marketing effectively. Since then, we've been busy creating content marketers like you want to see.

In fact, every other month, we've delivered original content in the form of white papers and feature articles, and we'd like to share some of our most popular items with you.

The ABCs of KPIs
Key Performance Indicators (KPIs) are powerful and versatile metrics for tracking all sorts of sales information. But not all KPIs are useful, and some can by downright harmful. This white paper introduces you to the concept of KPIs, offering a handy framework for evaluating and setting KPIs to meet specific goals, and how to recognize "bad" KPIs when you see them.

How Seattle spends
Every year, Seattle-area residents spend nearly $85 billion on consumer goods. But where does that money go? We reviewed two major consumer spending studies, including a 2014 Nielsen report, to bring you the surprising trends that characterize spending in our region, and how our market stacks up in comparison with other large metropolitan areas.

Everything you need to know about native advertising
As a category, native advertising is one of the hottest in media today. But because forms and definitions are constantly changing, even the savviest marketers may want a refresher course. This white paper shows how major news media sites like ours are currently defining native advertising, what it looks and reads like on different media platforms, and factors to consider when evaluating native advertising options.

How family marketing can improve your bottom line
If you have a product or service aimed at children or teens, you may want to rethink your marketing strategy. In this research paper, we explore the influence children have on buying decisions, important demographics and preferences of today's families and how you can most effectively reach them through marketing and advertising.

Best ads of 2015
Take some inspiration from some of the most creative and successful campaigns that ran in The Seattle Times last year. We asked our staff experts in design, marketing and campaign management to tell us what campaigns really stood out, and we think you'll enjoy seeing what we've pulled together.

If you're looking for additional information, or have specific questions, media experts at The Seattle Times are here to help. Contact your account representative or call 206-464.2400.

We hope you find these resources useful, and we want to know what you want to see next. Please take our survey in the box at right to tell us what's working, what could be improved, and what you'd like to see in future issues.

---
Blast off with the new Seattle Times iOS app
Apple users now have a faster way to get their news. The Seattle Times is proud to launch our new and improved iOS app, built from the ground up to be superfast, easy to use and get readers right to the news they want. It also features a clean, streamlined design designed to help busy readers stay in touch with the stories that matter. Look for our ad campaign launching this month, and visit our landing page for more information.

---
Congratulations to ADDY winners
On March 24, the 2016 American Advertising Awards (also known as the ADDYs) show, recognizing the area's "best of the best," took place in Seattle.

Copacino+Fujikado, POSSIBLE, Wexley School for Girls and Wunderman Seattle were among the big winners, taking home multiple Gold and Silver ADDYs for their work in several categories. That same evening, WONGDOODY's John Schofield received the AAF Seattle Silver Medal, honoring his professional and personal contributions to the local advertising community.

Longtime sponsor The Seattle Times was represented by Lauri Hennessey, who capped off the evening by presenting the People's Choice award to Day 1 Studios for their Integrated Branded Content Campaign, "Showhole."

For a complete list of winners, visit the American Advertising Awards website.

---
Marketing Events Calendar
Don't miss these upcoming Seattle area marketing-focused events.

American Advertising Federation — From Apple to Fashion: Shared insights for successful multicultural marketing
April 21, 6–8 p.m.
Pike Place Market Atrium Loft, 85 Pike St., Seattle, WA 98101

Bellevue Chamber of Commerce Business After Hours
April 26, 5:30 – 7:30 p.m.
Embassy Suites by Hilton, 3225 158th Avenue SE, Bellevue, WA 98008

PSAMA MarketMix2016 Conference — Are you ready for the digital revolution?
April 27, 7:30 a.m.– 6:30 p.m.
Meydenbauer Center, 11100 NE 6th St., Bellevue, WA 98004

Seattle Metropolitan Chamber of Commerce IN-NW Digital Innovation Conference
April 27, 9 a.m.– 4 p.m.
Showbox SoDo, 1700 First Ave. S., Seattle, WA 98134

Bellevue Chamber of Commerce – East King County Chambers Coalition Legislative Wrap Up
April 28, 3–5 p.m.
Homewood Suites, 1484 Hyla Ave. NW, Issaquah, WA 98027

Take our survey for
a chance to win two
tickets to the Seattle Rep

Help us tailor "Marketing News" to your needs by taking a short reader survey. When you do, you'll be automatically entered to win two tickets to Seattle Repertory Theatre's "Sherlock Holmes and the American Problem," an original adventure tale full of thrills, laughs and unbelievable deductions.

© 2016 The Seattle Times • 1000 Denny Way Seattle, WA 98109